Happy Birthday, Herbie Hancock: Celebrating His Late '60s Sideman Work
THIS IS THE ARTICLE FULL TEMPLATE
Tuesday, April 12, 2016
THIS IS THE FIELD NODE IMAGE ARTICLE TEMPLATE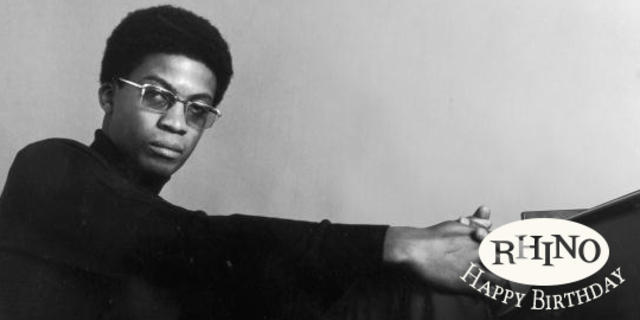 Herbie Hancock turns 76 years old today, and although he's been recording as a solo artist since 1962, when he released his debut album, the appropriately-titled Takin' Off, it wasn't until the late '60s – 1968, to be specific – when he first made an appearance on Billboard's Jazz Albums chart, with Speak Like a Child. Part of the reason Hancock's profile was growing was undoubtedly due to his work with so many other notables in the jazz community, including Donald Byrd, Freddie Hubbard, Roland Kirk, Sonny Rollins, Stan Getz, and Miles Davis, among many, many others, and in celebration of Hancock's birthday, we thought we'd spotlight a few of those others.
Before you start asking why we've picked the folks we've picked, we'll admit it: we pointedly chose artists whose work with Hancock could be found within our own catalog. When you see the artists in question, however, you'll see that we didn't exactly skimp on the talent with our selections.
Nat Adderly, "Cantaloupe Island" (1966) – If the name rings a bell, as it should for any jazz fan worth their salt, you're right in suspecting – or possibly just remembering – that Nat's brother was Julian Adderly, a.k.a. the legendary saxophonist known as Cannonball Adderly. Although he lived his brother's substantial shadow for longer than he perhaps should have, given his own formidable talents, his 1966 album Sayin' Something was top-notch. Of course, it helped to have material like "Cantaloupe Island," a composition written by Hancock a few years earlier and recorded for his 1964 album Empryean Isles.
SONG: Listen Here
Dave Pike, "Sweet Tater Pie" (1966) – Pike was a man who really knew his way around a vibraphone, and he put his talents to good use whilst working with Herbie Mann throughout a significant chunk of the 1960s, but he really started getting his groove on as a solo artist in '66, thanks to Jazz for the Jet Set, a swingin' piece of work that could serve as cocktail music for parties even 60 years on. Hancock serves as organist from start to finish, but it's "Sweet Tater Pie" where he shines the brightest.
SONG: Listen Here
Roy Ayers, "Stoned Soul Picnic" (1968) – You've heard the work of Roy Ayers even if you don't know who he is, thanks to having ostensibly had more sampled hits by rappers than any other artist. (That's what it says on Wikipedia, anyway, but it seems credible when you consider the size of his discography and the icon nature of his work.) Like a lot of jazz artists in the '60s, Ayers seemed to enjoy the challenge of taking pop and R&B songs of the day and transforming them into jazz epics, which is what he did with this classic Laura Nyro track, and if you like what you hear here, you might also check out his cover of Nyro's "Emmie," which he recorded for his 1969 album Daddy Bug, another Hancock-featured effort.
SONG: Listen Here
Luis Gasca, "Joy Ride" (1969) – Gasca flies so far under the mainstream radar that he doesn't even have a Wikipedia page, which is something that someone should remedy sooner than later, but for those not in the know, he was born in Houston, Texas and plays a mean trumpet. You can hear him on Bob Weir's Ace album as well as on Van Morrison's "Tupelo Honey," but he released his debut solo album on Atlantic in 1969, one which – in addition to Hancock – also featured Joe Henderson, Hubert Laws, and Bernard Purdie. The title of this track is apropos: once you hit "play," you really will go on a musical joy ride.
SONG: LIsten Here