Happy Birthday: Bonnie Raitt
THIS IS THE ARTICLE FULL TEMPLATE
Wednesday, November 8, 2017
THIS IS THE FIELD NODE IMAGE ARTICLE TEMPLATE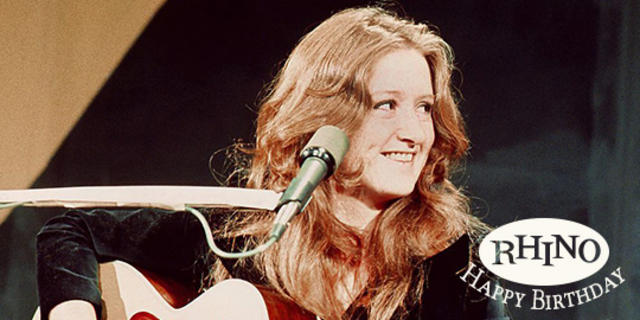 It's Bonnie Raitt's birthday, and if ever there was a woman whose birth was worth celebrating, it's this brilliantly bluesy broad. Yes, we know that "broad" isn't the accepted term for women these days, but given the context, we think she'll appreciate the sentiment and accept it in the spirit in which it's intended. In celebration of Raitt's birthday, we've put together a list of 10 tracks on which she's guested over the years, and once you've made your way through those, be sure to check out our official Bonnie Raitt playlist on Spotify!
Jackson Browne, "The Times You've Come" (1973): The friendship between Raitt and Browne is one that has stood the test of time, so this is far from the only occasion on which she appeared on one of his albums, but it's the first of those occasions, so it seemed like the best one to cite within this list.
Little Feat, "Dixie Chicken" (1973): Arguably the most high-profile of the songs by the Feat to feature Raitt's vocals, it's also worth mentioning that she was in the mix for Lowell George's solo album, THANKS, I'LL EAT IT HERE.
Eric Kaz, "Temptation (Took Control of Me and I Feel)" (1974): If you don't know Kaz's name as a singer, perhaps you've at least seen it in the credits of some of the LPs in your record collection. Besides Raitt, among those who've benefited from his compositions are Alison Krauss and Union Station, Randy Meisner, Kenny Rogers, Linda Ronstadt, and George Strait.
James Taylor, "Walking Man" (1974): The Raitt / Taylor friendship is another one that's long-lived, since the two toured together only just this past summer. During a round of press for that jaunt, Raitt discussed the first time she'd shared a stage with Taylor, which happened in 1970, when she was a junior at Harvard and only just getting off the ground as a singer/songwriter. "I was nervous to play because I hadn't really broken my chops in for concerts that much," Raitt told the Chicago Sun-Times. "But I was so excited. It was an honor to be both at my school and opening for him. He couldn't have been warmer and more friendly. It was intimidating to meet one of my heroes, but he was just so down to earth."
John Prine, "Come Back To Us Barbara Lewis Hare Krishna Beauregard" (1975): That's a mouthful of a title, but it's unquestionably a John Prine composition. The same can be said of "Angel of Montgomery," another Prine-written tune, but it's also fair to say that Raitt made the song her own when she recorded it in 1974 for her STREETLIGHTS album.
Geoff Muldaur, "Since I've Been With You Baby" (1976): Raitt and Muldaur had known each other for quite some time before she appeared on this track – Raitt and Geoff's former wife, Maria, had sung together on Jackson Browne's album FOR EVERYMAN back in 1973.
Warren Zevon, "Join Me in L.A." (1976): Zevon's albums were notorious for being filled with a multitude of high-profile guest stars, but Raitt wasn't just a guest, she was a full-fledged fan. In Crystal Zevon's memoir about her life with Warren, Raitt said, "There's no way the mainstream could be hip enough to appreciate Warren Zevon. He was our everything, from Lord Buckley to Charles Bukowski to Henry Miller. Warren made someone like Randy Newman even seem normal."
Allen Toussaint, "Declaration of Love" (1977): Raitt also adored Toussaint, appearing with him multiple times over the years. When Toussaint's final recording, AMERICAN TUNES, was released, she was quoted by Nonesuch Recordings as saying that Toussaint "is one of the most important influences in the history of American music."
Sippie Wallace, "Women Be Wise" (1982): Raitt was in her early 30s when she joined forces with Wallace, who at the time was in her early 80s, but the two got along like family. Indeed, in an interview with People at the time, Raitt said of Wallace, "<"We are two souls who have known each other before. It's a connection that transcends age and space. She's more my own grandma than my natural grandmother."
Michael Franks, "Ladies' Nite" (1982): Truth be told, we don't actually know how Raitt came to sing this duet with Franks, which – given their disparate styles – is a slightly surprising pairing. Darned if it doesn't work, though!