Happy Birthday: Bjork
THIS IS THE ARTICLE FULL TEMPLATE
Monday, November 21, 2016
THIS IS THE FIELD NODE IMAGE ARTICLE TEMPLATE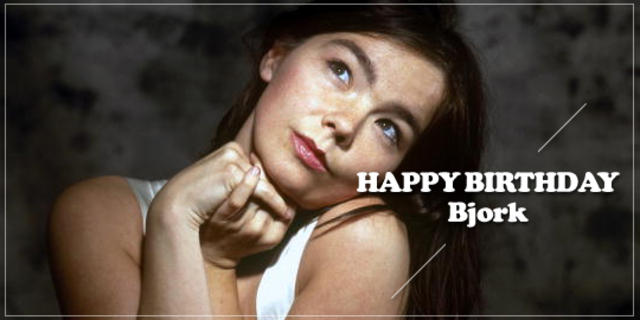 It's Björk Guðmundsdóttir's birthday today, but if the possibility of accidentally mispronouncing her last name is causing you dread, it's okay: most people just refer to her as Bjork, anyway. In celebration, we've put together a massive 140-song playlist featuring the albums of both the Sugarcubes and Bjork herself, but we've also got a Bjork six-pack for you, so you can get a feel for some of the work that the unique Icelandic songstress has done that's probably flown under your radar.
1. Kukl, "Songull" (1983) – It's funny to think that this Icelandic band was actually a super-group of sorts when it first came into existence, but it's true: Asmundur Jonsson of Gramm Records put the group together for the final episode of a radio show called Afangar. As it happened, however, the members of Kukl – one of whom, as you probably guessed, was Bjork – enjoyed working together so much that they ended up becoming a proper band, and this was their first single.
2. Johnny Triumph & Sykurmolarnir, "Luftgitar" (1987) – Okay, this is a bit of a cheat, since it's technically just the name that the Sugarcubes went under before they ultimately changed their name to the Sugarcubes, but since it's a song you probably haven't heard before, we thought we'd include it in the mix anyway.
3. Bless, "Worlds Collapse" (1990) – Another Icelandic band, but one whose lone album Bjork guested on. Ned Raggert at AllMusic.com described the affair as "an underrated delight, essentially fusing the musical aesthetics of the Sugarcubes, the Pixies, and other indie rock fun into one insane combination, topped off by the sometimes straightforward, sometimes amiably nerdy singing and screams of lead vocalist/guitarist Gunni Hjalmarsson."
4. 808 State, "Qmart" (1991) – Although predominantly an instrumental band, 808 State had enough street cred to score big name vocalists to contribute to their tracks when they were of a mind to do so. Indeed, on the group's 1991 album EX:EL, in addition to this track and "Ooops," both of which feature Bjork, New Order frontman Bernard Sumner can be heard on "Spanish Heart."
5. Nearly God, "Yoga" (1996) – If the name "Nearly God" means nothing to you, perhaps the name "Tricky" means slightly more. Apparently Tricky had a clause in his Island Records recording contract which allowed him to release an album once a year under a name other than his own, so he utilized it in order to issue this collection, which features this track and another ("Keep Your Mouth Shut") with vocals by Bjork, along with additional vocal contributions from Terry Hall, Martina Topley-Bird, Cath Coffey, Neneh Cherry, and Alison Moyet.
6. Evelyn Glennie, "My Spine" (1997) – A Scottish percussionist whose acclaim has been considerable over the course of her career – as recently as last year, she was announced as one of the two laureates for the Polar Music Prize of 2015 – she released a greatest-hits collection in 1997 which featured two collaborations with Bjork. In the liner notes of the album, she described the tracks thusly: "'My Spine' is from a group of pieces Björk and myself wrote and experimented with during our initial meeting. I say "experiment" because that is exactly what we did in my recording studio. 'Oxygen' was the first experiment Björk and I made back in 1995. Everything we did we recorded; this piece, with all the pops, rattles and other unrefined noises, shows that this was a totally spontaneous effort - without 'makeup' or doctoring of any kind. This is how I like to make music."